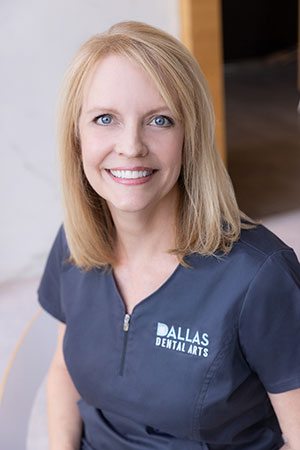 Kristin
Registered Dental Hygienist
I truly enjoy my interactions with patients and learning about their lives. I feel fortunate that I have been able to take care of and connect with our patients for so many years.
Kristin has worked in the dental field since 1989, and has been with our team since 1990. She offers a range of care, including prophylaxis (cleanings), periodontal screenings and treatment, and accessible, useful patient education. Kristin and her husband have been happily married for three decades. They love spending time with their family and traveling. Kristin has one daughter who is also a dental hygienist and is about to be married.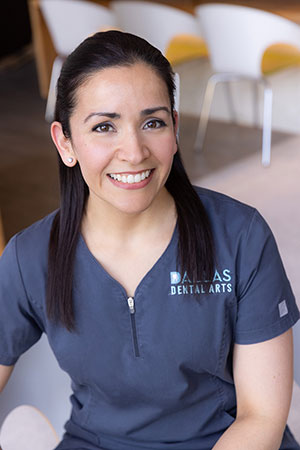 Dr. Evelyn Garza
Registered Dental Assistant
I love to put my knowledge and experience into my work and contribute to the wellness and smiles of our patients.
Evelyn has worked in the dental field since 1997 and graduated from the College Universidad Autonoma de Nuevo Leo, Facultad de Odontologia in Monterrey, Mexico. She practiced at Dentalaser before joining us in 2009. She handles all laboratory processes for the practice. Outside the office, Evelyn enjoys spending time with her husband and two sons watching movies, going out to eat, visiting places, participating in their children's activities, and early morning walking and jogging.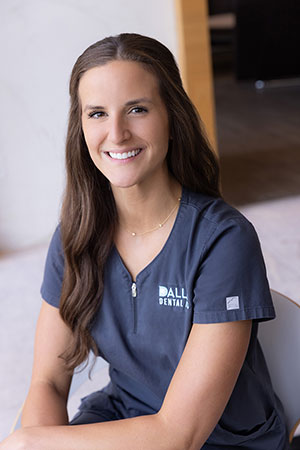 Ashley
Registered Dental Hygienist
I have a passion for improving one's oral health while maintaining a friendly and comfortable environment. It is rewarding being able to help people feel more confident. Happiness starts with a smile and I love being able to contribute to that!
Ashley has worked in the dental field since 2016 and graduated from Texas Woman's University with her bachelor's in dental hygiene. She provides thorough periodontal analysis, gentle cleanings, and will keep you up to date on the most current home-care products! She was born and raised in Rockwall. She now lives in Dallas where she enjoys running, yoga, sand volleyball, hiking, and staying healthy.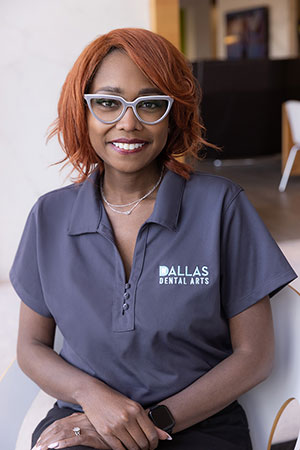 Raven
Insurance Coordinator
My goal is to improve a patient's dental experience by reducing the patient's contact with insurance companies, by researching and resolving claim discrepancies and ensuring that the patient receives their full insurance benefit.
Raven entered the dental field in 2000 and joined Dallas Dental Arts in 2019. She is responsible for assisting patients with the processing of dental insurance claims and management of relationships with insurance carriers. Raven moved here from west Texas with her husband and his fluffy kitty named Peanut. During her downtime, she enjoys napping, doing crafts, occasionally cooking, but mostly going on fun dinner dates at new restaurants with her husband.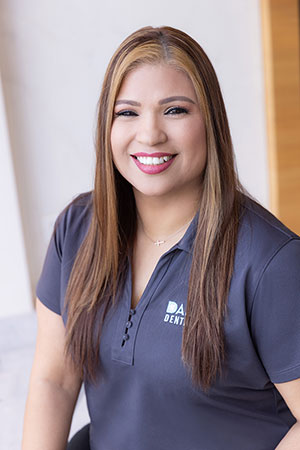 Rosa
Treatment Coordinator
I feel very fortunate to be able to come to work and do what I truly love to do every day. I enjoy meeting and assisting patients in any way that I can so that they enjoy their visit in our office.
Rosa has worked in the dental field since 2008 and joined Dallas Dental Arts in 2020. She has a son and two daughters with whom she enjoys spending her free time. They love to watch movies, go out to eat, and take road trips!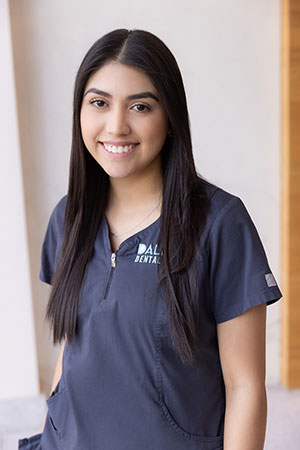 Natalie
Registered Dental Assistant
There is nothing better than seeing the look on people's faces when they see their new smile!
Natalie has been a dental assistant with Dr. Allen since 2021. She enjoys meeting new people every day, building relationships with them, and helping to make their smiles healthy. When Natalie is not working, she enjoys going on hikes with friends and her dog or going to the gym with her mom. She also has an older brother and younger sister with whom she loves spending time.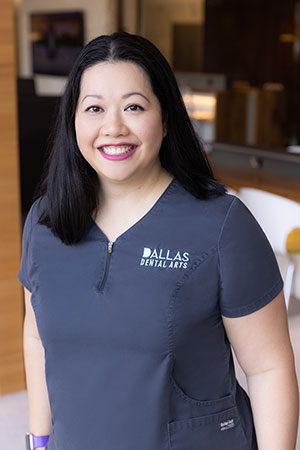 Christine
Registered Dental Assistant
I love getting to know our patients and their families, and seeing their smile transformations!
Christine graduated from UT Arlington with a biology degree and went to Concorde Career Institute for dental assisting school. Christine and her husband have been married since 2009 and have three kids who can sometimes be a handful! As a family, they like to take trips to the beach so the kids can play in the sand and water. When she finds a moment of time to herself, Christine loves to dabble in arts and crafts.