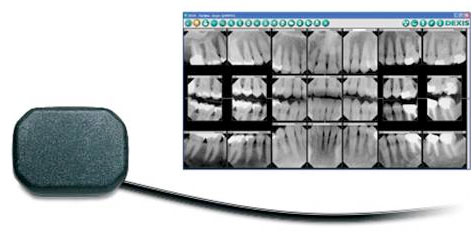 DEXIS (Dental Electronic X-ray Imaging System) Digital Radiographs
We use DEXIS Digital X-rays. Dexis is the only digital system to be accepted by the American Dental Association. They use 90% less radiation than conventional X-rays.
The DEXIS PerfectSize™ sensor is ergonomically designed to be more comfortable. With digital X-rays, we are able to see images instantly on our flat-screen monitors, which can be enhanced by magnification, contrast, and coloring to diagnose your treatment needs more effectively.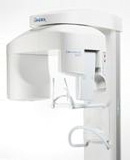 Gendex Digital Panoramic X-ray System
We use this state-of-the-art system to take full-mouth digital X-rays. This picture helps us to locate cysts, jaw fractures, cancerous lesions, and other abnormalities of the bone and tissues early, before it's too late!
3D Image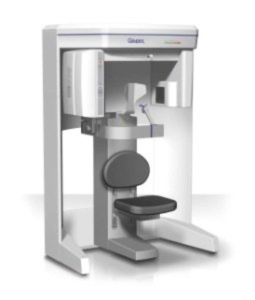 Your smile ... it's one of the first things people notice about you. But if you have poor-quality or missing teeth, your smile may be one of the first things you want to hide from the world. Now's the time to stop hiding.
Now may be the time to start thinking about a new and better smile.
Changing lives though dentistry is what we do at Dallas Dental Arts. Whether you need whiter teeth, a new filling, or are suffering from the misery of bad teeth or bad breath, we focus on solving your dental problems. Every day, we provide high-quality, high-tech, and highly compassionate care just for people like you.
Dental Implants and beautiful new smiles in just one day
What was impossible just a short time ago, we do every day. Miracles do happen! And in the right situation, you can receive your beautiful new smile in just one day!
Advances in dental implant technology and new protocols make it possible to replace failing or missing teeth with customized replacements immediately.
We do it all right here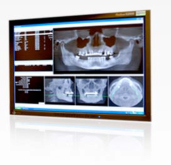 Patients receive complete, fast, and convenient treatment all in one location. Dallas Dental Arts has an experienced team of dental professionals, 3D CAT scanning technology, and a specialized on-site dental implant lab that set Dallas Dental Arts apart from other dental offices.
Dallas Dental Arts is one of the few select dental implant centers in the world to use 3D CAT scans for diagnosis and treatment planning. It takes only 20 seconds to give us a detailed look at existing teeth, bone, nerves, and tissue.
The 3D CAT scan provides three-dimensional and cross-sectional views that allow us to:
Examine the quality and density of the bone that will anchor the implant
Determine the precise placement of the implants
Select the correct type and size of the implants
Avoid the nerves and sinuses
Apply less radiation than other CAT scans
In addition to replacing single, multiple, and failing teeth, Dallas Dental Arts offers Noble Biocare Immediate Function Procedures, including the All-on-4 procedure, an advanced alternative to traditional dentures. The All-on-4 procedure can replace a full arch of teeth in one day, using only four implants and often without bone grafts. That saves you time and money.
Experienced specialists
Our team of experienced dental professionals is trained for extractions, dental implantation, and other surgical techniques as well as the best in cosmetic and restorative dentistry.
We strive to provide technical, educational, and emotional support and answer any clinical or financial questions you might have.
Isn't it time to change your smile and your life for the rest of your life?