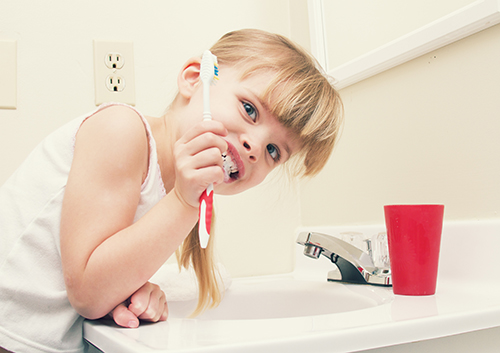 You're all set for your happy morning and nighttime ritual. You've provided your son with his favorite action hero toothbrush and your daughter with her favorite flavored toothpaste. You've gotten them into the healthy habit of two minutes of brushing twice each day. You've introduced them to flossing. You have favorite brushing songs! Stickers! Gold stars! And, best of all, you're teaching great brushing techniques.
Kids need the same basic brushing tools and skills as adults. What makes for the best cleaning?
Find the right brush
No matter how cute—or heroic—the brush, it needs to have soft bristles to protect enamel and delicate gum tissue. The head should be a perfect fit for your child's mouth. And if the handle is easy to grip and hold, you have a winner.
Find the right toothpaste
The bubblegum flavor might appeal to your child, but it's the fluoride that helps to prevent cavities. Talk to us about the right time to start using fluoride toothpaste and the right amount for your child's brush.
Teach your child the angles
If your child is too young to brush alone, start geometry lessons early. Holding the brush at a 45-degree angle toward the gums will clean bacteria and plaque from the tooth surface and the gum line. And don't forget the chewing surfaces and the insides of the teeth. When your child begins brushing on her own, coach her as she learns the best way to clean all the surfaces of her teeth.
Easy does it
Teeth and gums should be massaged, not scrubbed. Brushing too hard can damage not only tender gum tissue, but even your child's enamel.
Learn to let go
No matter how comfortable and appealing the brush, after three or four months, it's time for a change. Frayed bristles don't clean as effectively, and making up for it by brushing harder isn't the answer (see above). Also, toothbrushes can build up quite a collection of bacteria over time (see below), so a fresh brush is a must!
Everything in its place
A toothbrush should dry thoroughly between uses without touching other brushes. Placing a brush in a plastic container doesn't let it dry and encourages bacterial growth. And a toothbrush needs its own space—touching toothbrush heads means sharing toothbrush bacteria. The best way to keep toothbrushes as dry and as germ-free as possible is to store them upright, without touching other brushes, in a clean, well-ventilated area.
Rinse and repeat
Your child should rinse his toothbrush before and after using it, and be sure to rinse his mouth as well. That should get rid of any leftover food particles brushing has removed.
Finally, keep up the good work! As you teach your child proper brushing techniques, and make sure she uses them as she grows, you are preparing her for a lifetime of great checkups with Drs. Sheena Allen, Mark Margolin, and Moein Sadrkhani at our Dallas office. Give yourself a gold star—you've earned it!